Events organised by the NGO
One of our main aims is, to involve the inhabitants of Bahariya in The NGO´s work and actions. Specially childrens and teens. What is better for that than some creativ work or competitions that also bring some fun into their lifes?
Between October and December 2009 we organized two events:
2.October 2009: Colouring collecting boxes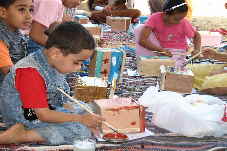 The NGO has to rely on donations NGO.So we decided to build So we decided to make up some wooden collecting boxes from a local carpenter. Colours were bought and 20 children were invited to the Nature cmp in Bir Ghaba. Each child could colour one box. The only thematic handicap was desert and oasis. After an exciting and funny afternoon the boxes were ready. Each one was signed with a name and placed in Hotels, camps and shops.
So if you find one of our boxes somewhere here in Bawiti, then please dont feel shy to fill it with some donations.enn A A big "Thank you" for that!!!
Here you find more pictures of our events!
4. December 2009: Rubbish collecting competition in Bawiti
For the first time we organized refuse-collection with children from Bahariya-Oasis.
On 4th of December 2009 more than 50 children in the age between 5 and 15 years collected refuse on the main street in Bawiti. They filled more than 200 bags full with rubbish.
From the 10 most successful collectors lots were drawn to find the 3 winners.
Congratulations to the winners: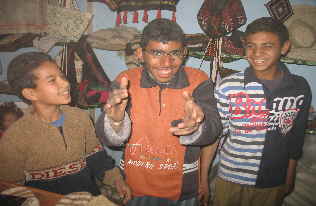 1st price – a bicycle: Mustafa Sabr (middle)
2nd price – a camera: Ahmed Mohammed Aisa (right)
3rd price – a radio recorder: Ahmed Gamal (left)
All the other children got as a small "Thank You" a pen and a notebook.
A warm "THANK YOU" for all helping hands!
Thank you also to the major, who could not come personally, but at least he sent us the garbage trucks to our disposal.
... to be continued !!!