Earth Day : Refuse Collection in Bahariya
Our Town is our Home.
Refuse is one of Egypt's greatest problem. Bahariya is no different. All rubbish is simply thrown on to the street, left on the kerbside or somehow shifted to unofficial dumps, sometimes to be burnt or blown away by the wind.
Since 2006 refuse is collected once a year in the whole of Bahariya, organised by the NGO with the participation of all inhabitants. Here and there a few schools also participated. Last year refuse containers were put in place which are now used but there are still far too few of them.
This year the refuse collection took place on 24th April 2009, International Earth Day and this tradition will be continued. We do not, however, wish to restrict it to this one day and the NGO intends to introduce environmental lessons into schools, possibly on a weekly basis. Even the very young are to be introduced to environmental and health themes by means of play and project work. They need to learn that there is a connection between a clean environment and health. Refuse is on the street every day and it has to be cleaned up every day. Not just once a year.
Take a look the pictures to see that refuse collection can be fun!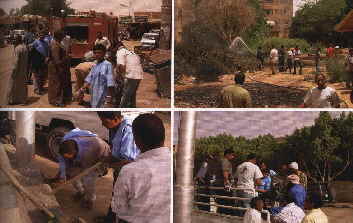 Every year a lot of the bahariyan peole take part of the big cleaning. Each one gets a t-shirt and also food and drinks are organised.
Our aim is, to involve the schools officialy in this action. As we didnt have yet a teacher for that, we organise some events for the childre by ourselve.
For example a rubbish collection competition in December 2009.